Top 7 Airline Guitars Which Will Inspire You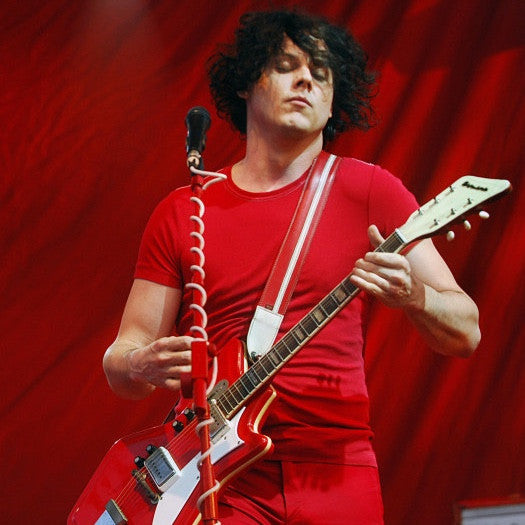 If you're looking for an awesome new guitar this Christmas (or whenever!) then check our Top 7 Airline models with some really cool artist connections... a sure way to feel inspired!
Perfect for: Jack White wannabes; fans or retro-tastic guitars; practitioners of garage rock.
It shouldn't come as a surprise that one of our most popular models is the Airline 59 2P in red... inspired by the Montgomery Ward "JB Hutto" Airline played by Jack White. There's no doubt that one of the main reason's Jack White picked this model was because some great bluesmen such as Jimmy Reed and JB Hutto also played one. 
Though some purists might prefer the (now very expensive) original Res-O-Glass models, but if you feel inspired by The White Stripes, you'll probably be happier with the tone-chambered body of the new ones, which also feature upgraded electronics & hardware. A perfect mix of classic design with modern playability. 
As you can see, the new ones still have a LOT of mojo! The perfect guitar if you want to make some dirty, garage rock'n'roll! VIEW MORE
2) AIRLINE 59 3P: PJ HARVEY'S 'LET ENGLAND SHAKE' GUITAR
Perfect for: Alternative types; indie rock; players who want a distinctive instrument to show they are different; those who like Airline but don't want to seem to be copying mr. Jack White.
PJ Harvey traded her usual Gibson Firebird for a vintage Res-O-Glass with 3 pickups. Our current Airline 59 3P DLX (with Bigsby) is as close as it gets and one of our most popular models - stunning! Since then, PJ has become an Eastwood customer too - yet another player who couldn't resist the Warren Ellis Tenor! VIEW MORE
3) AIRLINE 59 3P DLX 'RIPLEY': PSYCH SOUNDS OF WOODEN SHJIPS/ MOON DUO GUITAR 
Perfect for: Alternative rock; psych; players who want to break on through to the other side with the help of an extra "kick".
This is our first Airline 59 series "signature" model, designed with Ripley Johnson from the amazing Wooden Shjips and Moon Duo. Whether you're inspired by his far-out psych sounds, or simply fancy an Airline with an extra something, you'll love the Airline 59 3p DLX Ripley, which features our Transwarp Drive treble boost switch!
Totally rocking! Inspired, yet?  VIEW MORE
4) AIRLINE H78: TRIBUTE TO DAN AUERBACH'S HARMONY GUITAR
Perfect for: As an alternative to more common (& more expensive) semi-acoustics from other brands; fans of dirty Blues Rock; jazz players.
When it comes to vintage guitars, few guitarists have such a great taste as The Black Key's Dan Auerbach, who's responsible for introducing some great, forgotten models to new generations of players - such as his Harmony H78, which has been re-created by us as the Airline H78 semi-acoustic.
This is a superb-value semi-acoustic full of great vintage mojo, and ideal for any fan of dirty, swampy, garage blues rock. Oh, but the jazz crowd will love it too... VIEW MORE
5) AIRLINE TWIN TONE: DAVID BOWIE'S A REALITY TOUR GUITAR
Perfect for: David Bowie fans who want a guitar like that of their hero; Link Wray fans; 50's style rock'n'roll; punk rockers.
David Bowie wasn't known as a guitar hero, of course, but he was a good guitarist and had a very particular taste for vintage models. The Supro Dual Tone (as seen on the cover of his last live album, A Reality Tour) was his favourite guitar during his last tour in 2003.
This is the same model played by Link Wray on classics such as 'Rumble', and has been re-created as our very own Airline Twin Tone guitar, one of our best-sellers! We've also made a Link Wray Tribute model, which has a few extra features, but it's the standard Twin Tone which will inspire most players! VIEW MORE
6) AIRLINE MAP DLX: ROBERT SMITH'S GOTH GUITAR
Perfect for: Goth rockers; psychobilly
Robert Smith is without a doubt one of the ultimate "goth" guitarists. He pretty much helped to forge what is known as goth, by using sounds which became associated with the style, such as flanger and chorus effect. And one of his favorite guitars during the late 80's-early 90's was a National Newport Val-Pro 88.
Our Airline MAP DLX is not an exact copy, but is very similar and is perfect for that same kind of vibe - plus with added Bigsby! If black is your happy color, you can't go wrong with this one... VIEW MORE
7) AIRLINE H59: ROLLIN' SHAKIN' BLUES GUITAR
Perfect for: fans of early-Rolling Stones; fans of Alabama Shakes; blues; 50's rock'n'roll
Now here's our final pick, which has some very interesting artist connections - but not directly. This Airline H59 is inspired by the vintage Harmony H59 'Rocket' guitar, and the Chicago-based brand had (has!) some great Blues mojo. Keith Richards used to play a similar Harmony semi-acoustic (the Harmony Meteor) on the first Rolling Stones records; decades later, a double cut version of the Harmony H59 was one of the weapons of choice for Brittany Howard, singer/ guitarist with blues revivalists Alabama Shakes.
Our new H59 carries on with the tradition - plug it to a vintage Vox for that early British Invasion blues sound, or crank up a dirty valve amp for some great bluesy tones...
One thing is for certain - you can't help but feeling inspired when you play this beautiful guitar! VIEW MORE
Leave a comment
Comments will be approved before showing up.